Rakvere Targa Maja Kompetentsikeskus
Smart House/Intelligent Building Competence Center

Rakvere Smart House and Intelligent Building Competence Center presented on European Summit in Copenhagen.
Mar 20
-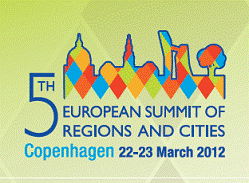 Smart House gets attention during the 5th European Summit of Regions and Cities aimed at targeting urban development issues. Smart House is one of the 30 projects exhibited on the exhibition "Beautiful, Green, Smart and Inclusive – Colorful Cities" that will showcase the best practises of European urban development.

The exhibition is focusing on 4 themes:
"Beautiful City" concentrates on projects linked to architecture and town planning, "Green City" on energy efficiency, transport solutions and sustainable urban development. Thematic stand "Smart City" shows innovation projects and smart specialisation strategies while "Inclusive City" promotes innovation, employment and creative solutions to social services.
Rakvere Smart House and Intelligent Building Competence Centre is one of the six best practises shown in the thematic stand "Smart City".
The exhibition brochure is available
here
.